At Pupstanding, we have the perfect dog training program for every situation.
We'll teach you how to train your dog, giving you the knowledge and skills to keep your dog happy, healthy, and safe.

Our Services:
Virtual One-on-One Dog Training
Looking for personalized guidance to help your furry friend overcome behavior challenges? Our virtual one-on-one dog training sessions are the perfect solution. Meet with Cathy Madson, a certified professional dog trainer and canine behavior consultant, to get the help and support you need.
These sessions provide individualized attention to address your specific needs and goals. Plus, with the convenience of virtual training, you can participate from anywhere and enjoy the benefits of training in the comfort of your own home. Don't let behavior challenges stand in the way of a happy and healthy relationship with your dog — sign up for a virtual one-on-one dog training consult today!

In-Person Private Dog Training
Are you located in the North Seattle metro area and looking for in-person private dog training and behavior help?
Schedule a Private In-Home Session to receive hands-on help and a training plan to reach your goals.

Resource Guarding Foundations
Does your dog growl, snap, or even bite when you approach their food or toys? If so, our virtual resource guarding dog training course is here to help! Created by certified canine behavior consultant, Cathy Madson, this course provides a step-by-step approach to addressing this serious and potentially dangerous behavior.
We'll cover everything from understanding the causes of resource guarding to practical techniques for modifying your dog's behavior. With our virtual format, you can participate from anywhere and receive personalized guidance to help your dog feel more comfortable sharing resources. Don't wait - sign up for our virtual resource guarding dog training course today and start creating a safer and happier home for you and your furry friend!
Check out our Resource Guarding Foundations Course — get instant access to self-paced curriculum and a personalized training plan in the included 1-on-1 virtual sessions with a certified canine behavior consultant.

Virtual Dog Training Workshops
Are you looking for effective and convenient ways to train your dog without leaving your home? Check out our Essentials Workshops — self-paced courses on a variety of dog training topics and common dog behavior issues — all for only $9!
Created by experienced and certified dog trainers, our workshops are tailored to meet the specific needs of dogs of all ages and breeds.
Are you a proud puppy parent struggling with crate training, nipping, potty training, or socialization? Or is your adult dog constantly barking or jumping up on people? Our workshops are designed to provide you with the knowledge, skills, and support you need to train your dog from the comfort of your own home.
Workshop Topics include:
Potty Training, Crate Training, Nipping & Biting, Socialization Foundations, All About Barking, Jumping & Counter Surfing


In-Person Group Classes
Our dog trainer, Cathy Madson, currently teaches group classes at Seattle Humane in Bellevue, Wa.

Our Dog Training Programs are Perfect for:
Learning how to socialize your new puppy

Addressing common puppyhood issues, such as potty accidents and nipping

Preparing to adopt a new dog and getting started on the right paw

Training basic obedience cues

Helping your dog overcome separation anxiety or leash aggression

Fixing problem behaviors, such as destructive chewing, digging, barking, or jumping

Dogs who get nervous in group classes or when unknown people enter the home

... and more!



Start Anytime, From Anywhere!
Virtual dog training makes it easy for you to start training right away, from anywhere in the world.
No need to wait for puppy vaccines to attend group classes. No waitlist to get into full classes.
Plus, there's no travel time and it's easy to get the whole family involved!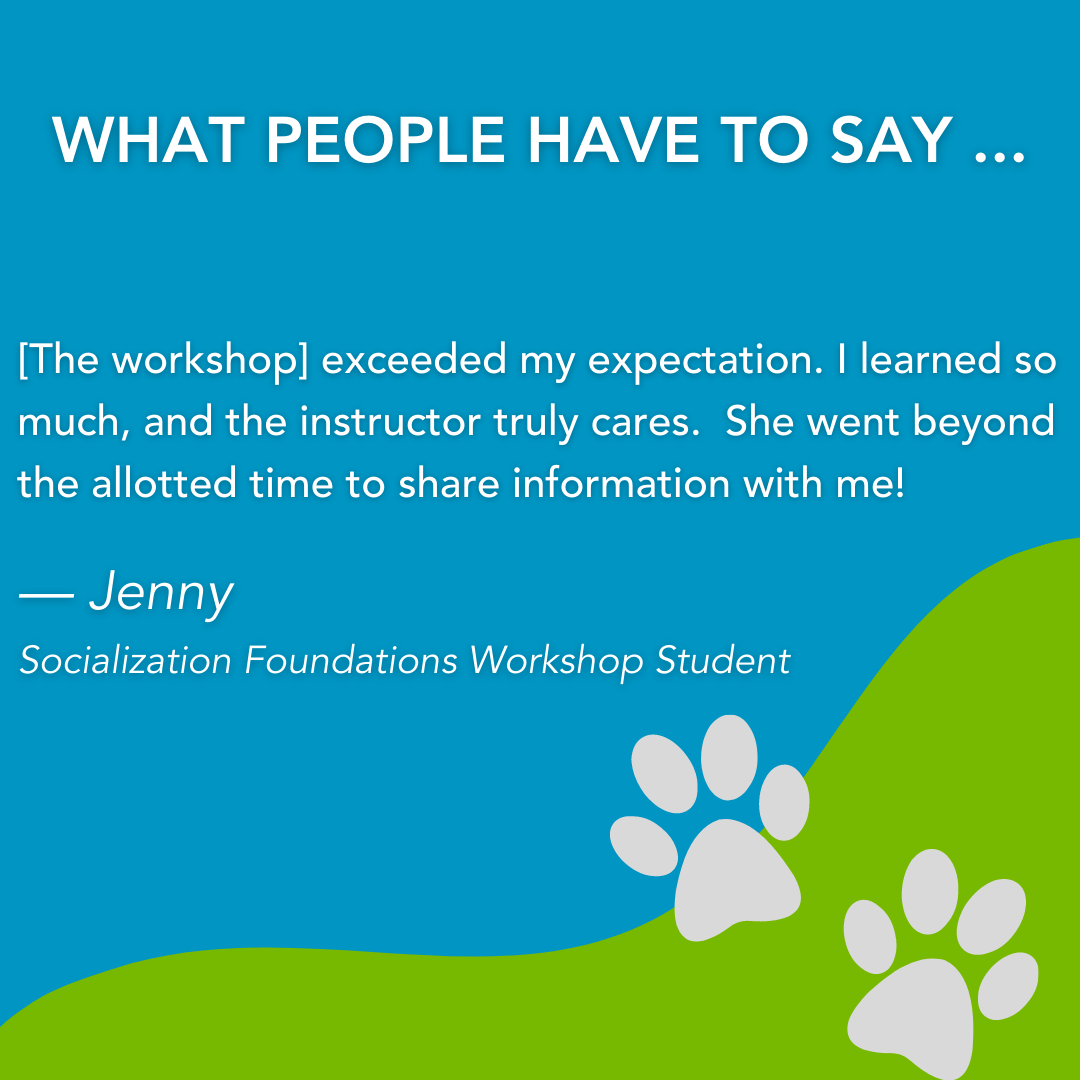 Have Questions?
We're here to help!
Email any questions about our workshops or one-on-one coaching to [email protected]