Pupstanding Academy
In-Person Private Dog Training
Get one-on-one help for your dog's training and behavior from a certified professional dog trainer and canine behavior consultant.
Services include:
Puppy socialization and training, all-age dog training, leash manners, obedience skills, separation anxiety, leash reactivity, aggression, resource guarding, and more!
Serving the North Seattle Area:
Edmonds, Shoreline, Greenlake, Richmond Beach, Lake City, Lake Forest Park, Bothell, Kenmore, Kirkland
Looking for a Group Dog Training Class?
Cathy currently teaches small-group classes at Seattle Humane in Bellevue, Wa.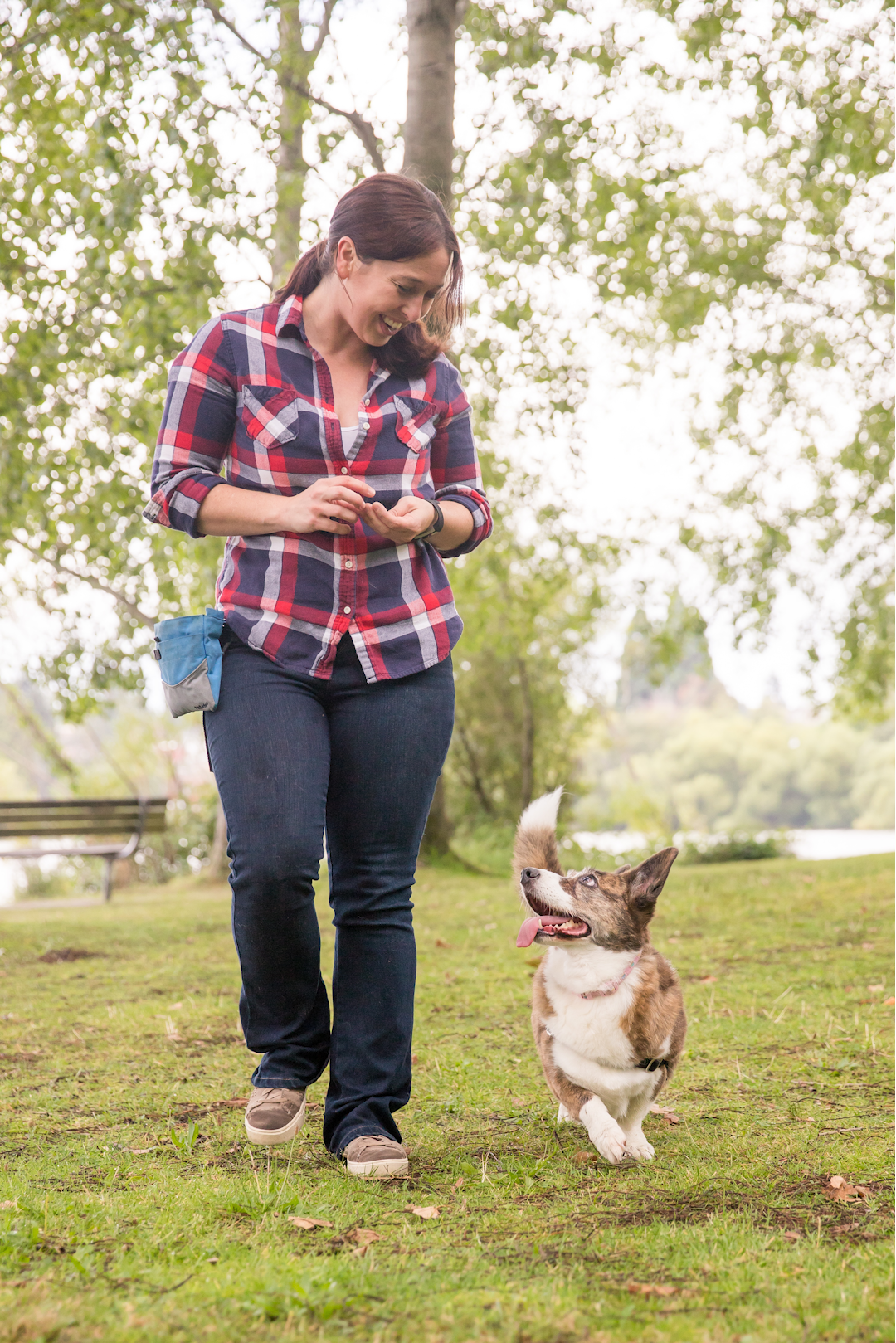 About Your Trainer
Cathy Madson
MA, CBCC-KA, CPDT-KA, Fear Free Certified Professional
Cathy Madson became a dog trainer in 2008, but she likes to think that her career began when she was six years old and a stray wandered into her yard and became her first dog companion. She shares her life with her partner and his 10-year-old son, who adores their two Welsh Cardigan Corgis, Sookie Bean and Fozzie Bear.
As a dog trainer and canine behavior consultant, Cathy strives to help humans and their pets build a strong relationship based on trust and clear communication through force-free dog training methods.
With over a decade of experience working with dogs in shelters, dog daycares, grooming salons, group classes, and private companion dog training, she has had the opportunity to work with hundreds of dogs and on a wide variety of behavioral challenges. She believes that preventive and proactive training is key to helping dogs live a happy, well-adjusted life with their family.
Beyond companion dog training, her specialties include resource guarding, canine separation anxiety, leash reactivity, and dog aggression.
Cathy is certified through the Certification Council of Professional Dog Trainers, earning both the CPDT-KA and CBCC-KA designations. Cathy is a Fear Free Certified Certified Professional, a member of the Association of Professional Dog Trainers (APDT), and a training professional member of The Pet Professional Guild (PPG). She's also a member of the Dog Writer's Association of America. Cathy has also completed the Aggression in Dogs master course.
She has appeared on local news stations (KING5, Q13, New Day Northwest, Evening) highlighting dog health and training topics and has been featured in a variety of online articles and print magazines.
In-Person Dog Training Pricing:
Initial Virtual Consult & In-Person Session: $200
Follow-Up In-Person Sessions: $125
6-Pack of In-Person Sessions: $650 (For Established Clients Only)

Availability:
Initial Virtual Consults are typically available within 1 week.
In-person sessions on weekdays are typically available within 1-2 weeks. Weekend appointments within 2-3 weeks.
If you have an urgent case that needs attention right away, email Cathy at [email protected]. We cannot guarantee sooner availability.

Your First Session
All initial consultations are held virtually via Zoom. These consultations usually last 45 minutes and Cathy will ask about your dog training and behavior goals, history, and map out a training plan with you.
At the end of your initial consult, you'll schedule your included in-person session with Cathy to work in your home or at an appropriate dog-friendly location. In-person sessions last between 60–90 minutes.
All follow-up sessions after your initial consult and in-person session are scheduled directly with Cathy.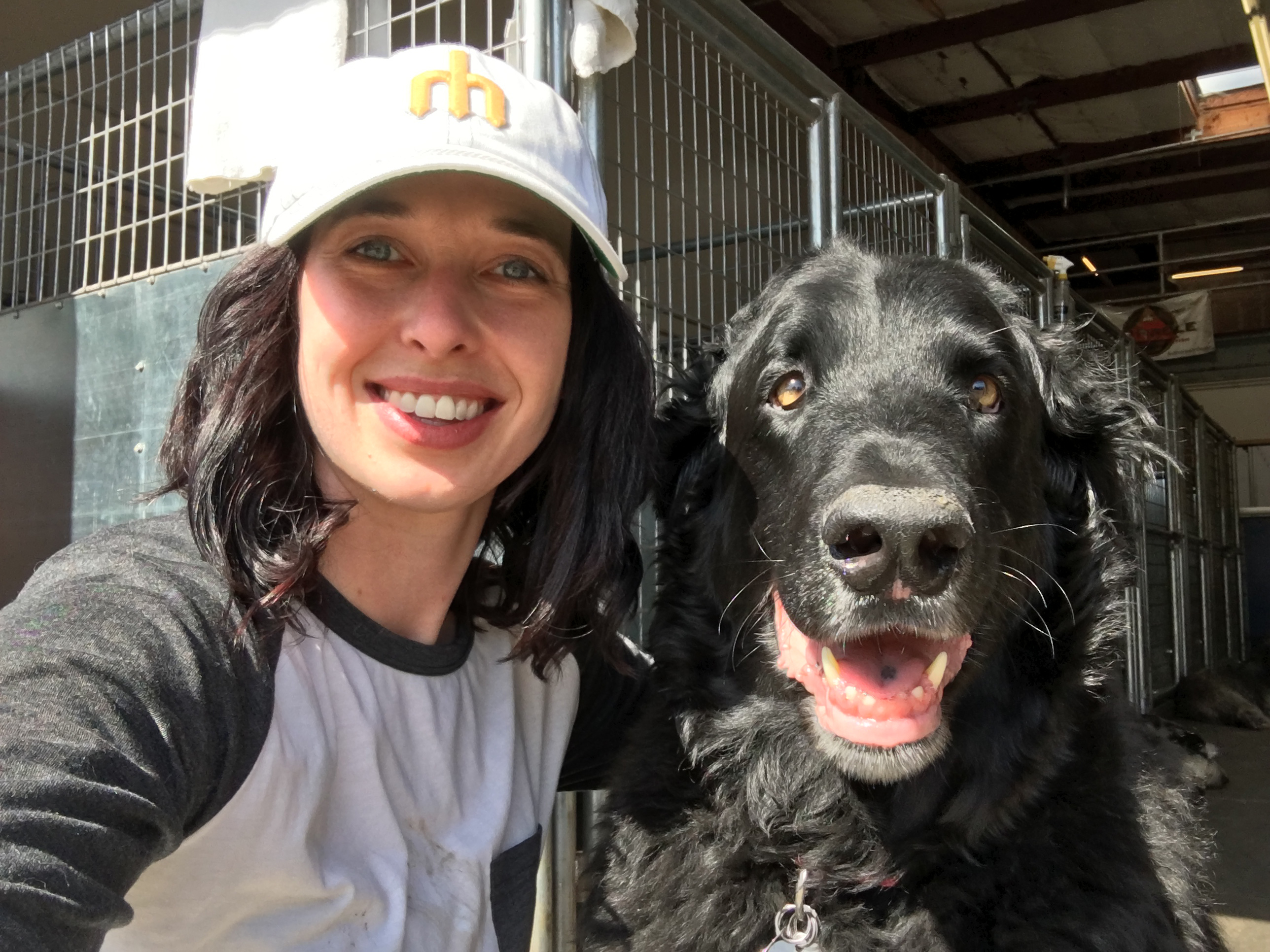 Frequently Asked Questions
What if I'm not located in the North Seattle service area?
If you live in the Greater Seattle area and would like in-person training, contact Cathy at [email protected] to find out about whether she can accommodate your location. In-person sessions outside of the regular service area do incur travel fees.
Cathy also offers virtual training sessions via Zoom or is happy to help you connect with a certified trainer who services your area.
If you do not live in the Greater Seattle area, we offer virtual training sessions for anyone, anywhere in the world!
How do I schedule my appointment?
Upon purchasing a training session, you'll be able to immediately schedule your initial virtual intake session with Cathy on the post-checkout screen.
Sessions are held via Zoom. You will receive a unique zoom meeting link via email. During your initial virtual consult, you'll then schedule your in-person training with Cathy.
All follow-up sessions after the initial consult and first in-person session are scheduled directly with Cathy.
Can I purchase more than one training session?
Absolutely! If you find yourself in need of in-person training more than once, Cathy will help you schedule any follow-up sessions.
Different training goals require varying numbers of sessions. Some training issues or plans only need one session for you to feel comfortable moving forward on your own. More complex training plans or behavioral issues often require multiple sessions before clients feel comfortable moving forward without in-home trainer support.
Many clients will start with in-person sessions and then start a hybrid program, with virtual "check-in" sessions in between in-person sessions.
What dog training methods do we use?
Training should be fun for both you and your dog! Our training methods are force-free and focus on positive reinforcement — this will help you build a strong and trusting relationship with your dog. You'll learn how to read canine body language and better communicate with your dog so they actually listen to you.
Positive training doesn't mean permissive — you'll learn how to use effective consequences that don't rely on using force, pain, fear, or intimidation.
Positive training isn't just about food treats — although they are a powerful tool. You'll learn how to figure out what your dog finds rewarding besides food, and how to use this to get behavior you want!
Can more than one person participate in the training session?
Absolutely! The more members of your household involved in your dog's training the better! However, in-person sessions are limited to household members or pre-approved caregivers only (e.g. dog walker or pet sitter).
Can I get a refund if I'm unhappy with my purchase?
All private dog training sessions (virtual and in-person) are non-refundable.
If you cannot attend your scheduled private training session, please let us know no later than 24 hours prior to your scheduled session. If we do not receive a reschedule request at least 24 hours before your session, it will be considered a no-show. Rescheduling requests are limited to once per student per session purchased.
As stated in Teachable's Terms of Use, Coaching IS NOT covered by Teachable's 30-day student refund policy.