Puppy Essentials: Potty Training Workshop
Learn how to potty train your puppy the right way!
Planning ahead for a new puppy? Struggling with how to house train your puppy or recently adopted dog and looking for help?
Our Puppy Essentials: Potty Training workshop is for you!
This workshop includes a LIVE 20-minute private virtual session with Cathy Madson, a certified dog trainer and behavior consultant. In these live sessions, you'll get your specific potty training questions answered and personalized troubleshooting tips for your puppy's house training.
With lifetime access to videos, training tips, and downloadable resources for a variety of lifestyles, you'll get the house training help you need.
Create a potty training schedule
See how to prevent potty accidents by using your puppy's crate or playpen
Teach your puppy to use bells to tell you they need to go outside
Avoid common house training mistakes
Find out whether pee pad training is right for your puppy
Get tips to clean up potty accidents to prevent future accidents in the same spots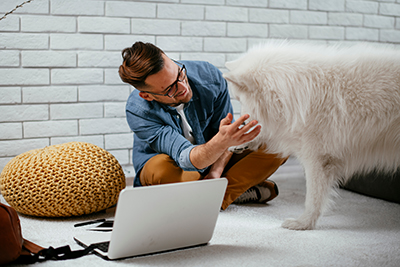 What people have to say...
"I attended the training session to help curb the multiple accidents a day in the home and learn a few tips and tricks along the way. In less than a week post-training my puppy had not had an accident in the house and it's been three weeks since he has had a house potty accident. One of the best tools I learned was having him ring a bell attached to the door knob at the back door. It worked like a charm and I now know when he needs to go out! Great training and a great value!"
— Seth, Workshop Attendee
Puppy Potty Training Curriculum
More Workshops For You
Proactive puppy training sets the stage for a fulfilling lifelong relationship with your dog. Check out our catalog for more training workshops to help your puppy be a "pupstanding" citizen!